A truly award-winning combination!
How can you make your next streaming binge on Netflix, Stan or Amazon Prime even more fun? Add a delicious Cointreau-based cocktail into your entertainment mix! Cointreau features in over 350 of the world's top cocktails – with an almost endless stream of options, you'll always find one to delight your taste buds. To help get you started, here are some fabulous Cointreau cocktails inspired by movies on Netflix.
She Bows to No One – inspired by the 2018 film Mary Queen of Scots.
A lavish and exciting period piece gives birth to a lavish opulent cocktail that's bound to excite. Queen of France at sixteen and widowed at eighteen, A young Queen Mary (played by Saoirse Ronan) defies pressure to remarry. Instead, she returns to rule her native Scotland and battle her cousin, Queen Elisabeth I, for the throne of England. Sample the courtly intrigue in this historical tale of powerful women, as you sample the intriguing flavours of She Bows to No One – a cocktail created in honour of the Scottish Queen who wouldn't back down – no matter the cost!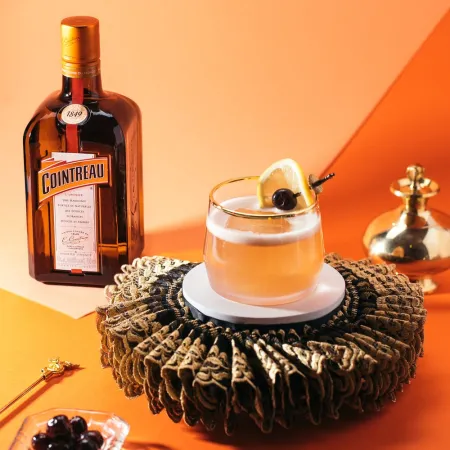 She Bows To No One Cocktail
20ml Cointreau
45ml Bruichladdich Scotch whisky
20ml fresh lemon juice
5ml simple syrup
3 cherries, halved (fresh, frozen, or brandied)
Muddle cherries in simple syrup in a shaker.
Add remaining ingredients and ice.
Shake and strain over a large rock.
If that's not to your taste then check out this next movie-cocktail combination.
The Swindle – inspired by the 2019 film The Good Liar
A cagey conn artist pursues a widowed oxford professor – but nothing is as it seems when it comes to this mark. Career con artist Roy Courtney (Sir Ian McKellen) can hardly believe his luck when he meets well-to-do widow Betty McLeish (Dame Helen Mirren) online. As Betty opens her home and life to him, Roy is surprised to find himself caring about her, turning what should be a cut-and-dry swindle into the most treacherous tightrope walk of his life. To match the slow-burn nature of this cerebral thriller, The Swindle serves up a tricky combination of Mezcal with the complex notes of Cointreau to deliver a smoky Margarita con job that is so much more than what it seems.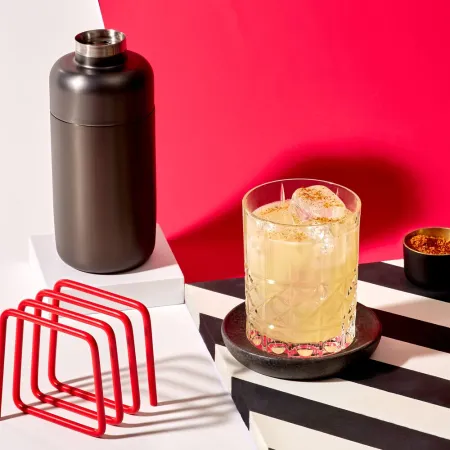 The Swindle Cocktail
30ml Cointreau
60ml Mezcal
20ml fresh lime juice
5ml fresh lemon juice
15ml orange juice
Add all ingredients to a shaker tin with ice.
Strain over fresh ice into a rocks glass.
Sprinkle with chili-lime seasoning to garnish.
This next movie and the Cointreau inspired cocktail that accompanies it will ensure you have a great evening.
Famiglia Ties – Inspired by the 2019 film The Irishman
If you love a gritty, forceful, and utterly absorbing American gangster film, the Academy Award® nominated The Irishman is for you. This acclaimed film directed by Martin Scorsese chronicles the career of Irish-American hitman Frank Sheeran and the secrets he kept as a loyal member of the Bufalino crime family. Sit back and savour screen legends Robert De Niro, Al Pacino, and Joe Pesci – and raise a glass to their superb performances with the perfect mix of Irish and Italian ingredients, exquisitely unified by the unique qualities of Cointreau.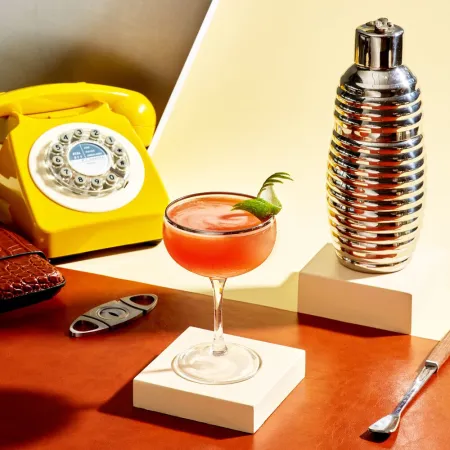 The Famiglia cocktail
20ml Cointreau
45ml Irish Whiskey
5ml Italian vermouth
15ml fresh lime juice
2 dashes aromatic bitters
Add all ingredients to a shaker tin with ice.
Shake and strain into a chilled coupe. Garnish with a lime twist.
Now, if you're a fan of award-winning films with subtitles, here one with a cocktail to match – a cocktail that speaks volumes in any language.
The Acceptance Speech – inspired by Award-winning film and TV (and the award-winning history of Cointreau)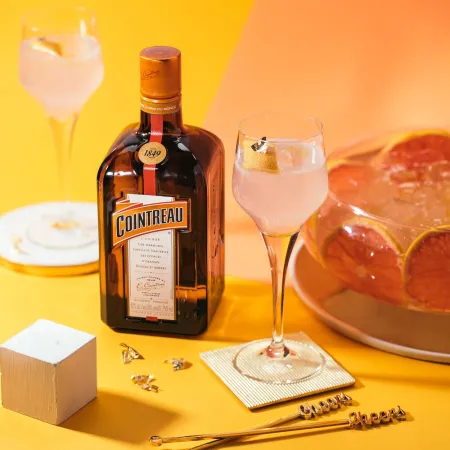 The Acceptance Speech cocktail
The Acceptance Speech – inspired by Award-winning film and TV (and the award-winning history of Cointreau)
30ml Cointreau
90ml elderflower tonic
60ml prosecco
30ml fresh grapefruit juice
1 pinch edible gold leaf
Build-in glass over ice and stir to combine.
Garnish with grapefruit or orange peel.
Now it's time to accept your reward for planning a great night in!
When in Roma – Inspired by the 2018 film Roma
Winner of the Venice Film Festival Gold Lion Award for Best Film, this intimate, emotional social issues drama by Academy Award® Winner Alfonso Cuaron delivers a vivid, emotional portrait of a domestic worker's journey set against domestic and political turmoil in 1970's Mexico. The camera work, cinematography, and sound effects are extremely vivid and go to show that Cuaron is one of the best directors on the scene. This Spanish spoken, black and white, Mexican film that is amazing, from start to finish – just like the Cointreau-based cocktail it inspired, which features classic Mexican ingredients.
20ml Cointreau
30ml Sierra Silver tequila
45ml manzanilla sherry
Stir ingredients together in a mixing glass with ice.
Strain into a chilled cocktail glass. Garnish with a long, thin lemon twist.
"Thank you! Thank you! I just couldn't have done it without Cointreau."