French chef Samuel Albert created 5 finger foods that perfectly match the different Cointreau Margaritas recipes.
Who is Samuel Albert?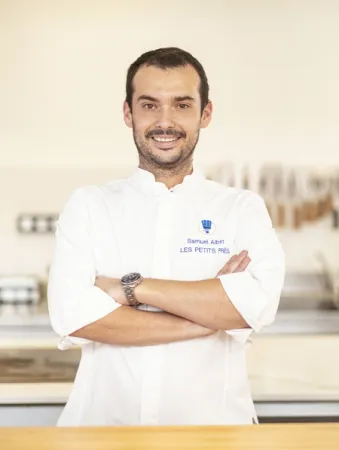 Who is Samuel Albert?
Samuel Albert is originially from Angers and worked several years in Tokyo before winning in 2019 the French famous food competition : "Top Chef".
Former Belgium embassy chef in Tokyo, Samuel traveled a lot to enhance his cooking knowledge and discover cultures. With inspirations from China, Japan and Australia, he offers a fusion style of cooking between his french roots and twists from all over the world.
In November 2019, after the show, he finally opened his restaurant in his birthplace named Les Petits Prés. 
Discover 5 easy to make recipe based on seasonal products available all over the world and matching the colors of the 4 seasons.
Let's start by the original margarita pairing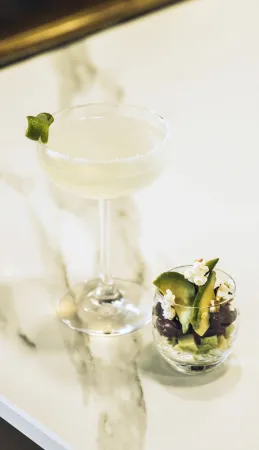 Let's start by the original margarita pairing
Created by Samuel Albert. 
RED ONION AND BEANS, AVOCADO LIKE A CEVICHE, SALTED POP-CORN AND MESZCAL JELLY
Ingredients :
5 avocados
2 red onions
5 tomatoes
250g of red beans in can        
3 leaves of gelat
Fresh Coriander sprigs

25cl

of olive oil


100g

of salted pop-corn        


25cl

of Mezcal


25cl

of water


2

limes
Preparation time: 20 min          Servings: 20

Recipe:
Chop the onion in thin slices, cut the tomatoes and avocados in small cubes. Chop the coriander. Put all the ingredients together in a hermetic box and add the drained beans as well as the lime juice, olive oil, salt and pepper.
Place the gelatin leaves in cold water to soften. Bring water to a boil, add the mezcal and the softened gelatin leaves until the jelly comes together. Store it in the fridge for two hours to solidify.
Food presentation:
In a small verrine dish, put two tablespoon of ceviche then one teaspoon of the jelly, add salted pop-corns on the top.
Chef tip:
Add fish, seafood or vegetables of your choice to the ceviche.
TO GO FURTHER, DISCOVER OUR SEASONAL MARGARITA FOOD PAIRING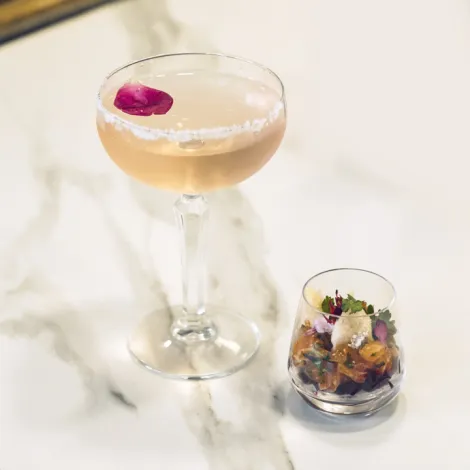 Spring Margarita Pairing
Beetroot tartar, green peas and gravlax salmon with prawn crackers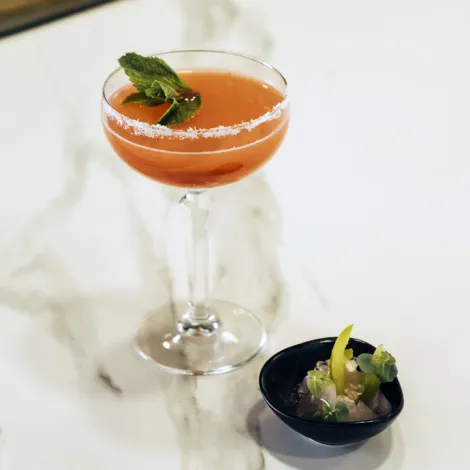 Summer Margarita Pairing
Dorade sashimi, green zebra tomato and strawberry granita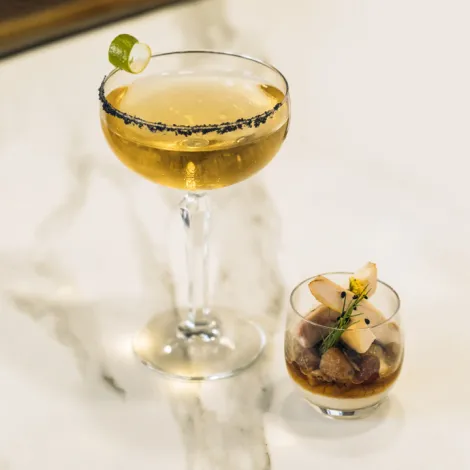 Fall Margarita Pairing
Soy sauce and maple syrup chicken breat with mix of nuts, candied fruits and chestnut cream
Winter Margarita Pairing
King prawn brochettes flambées with cointreau, stir-fried pineapple, sweet & sour sauce
Seasonal Margarita Recipes