From Edouard to Alfred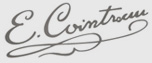 Cointreau is inextricably linked to Angers, a town in the Loire Valley known for its gentle way of life. For the last four centuries, the Cointreau family have exercised their various traditional crafts and know-how in the Anjou region.
In 1849, the first distillery was established on Rue Saint Laud under the name "Cointreau Frères," (Cointreau Brothers). They moved to the Quai des Luisettes (which later became Quai Gambetta) and it was in that secret world of stills and aromas that they built the reputation of the House.
For over 150 years, five generations have succeeded one another to lead La Maison Cointreau. The founders' generation gave the distillery its first success. The following generation was one of discovery, innovation, and creation: Triple-Sec orange liqueur, or Cointreau liqueur, was developed by Édouard Cointreau in 1875. This age of expansion continued with his two sons, Louis and André Cointreau, who broke down borders and opened the door to the United States in the 20's, marking the signature Cointreau as a Global Brand. Cointreau exports its très Parisian liqueur over 5 continents. It is an impressive success.
On the company's centenary in 1949, Pierre Cointreau, the fourth generation of the family, became CEO. Working with passion and fervor into his 90's, Pierre Cointreau made La Maison Cointreau what it is today. Driven by the values inherited from his grandfather Édouard, and his grandmother Louisa, Pierre instilled in everyone the importance of a job well done. This is especially true of Alfred, his grandson and the sixth generation of the family, who joined Cointreau in 2010. From his grandfather, Cointreau retained the idea that the best path to success is, first and foremost, humility, as only strict discipline can drive progress and evolution. Alfred Cointreau, Brand Heritage Manager, travels the world to meet with mixologists, telling his story, that of his ancestors, and above of all, the story of Cointreau which remains incredible. A prolific creator, Alfred Cointreau enjoys concocting both simple and complex cocktails, always with the idea that each signature be elegant, knowing that the first sip of a cocktail is taken with the eyes…