La Parisienne - The Cointreau muse
Before the Legend, there was a look, a taste, an effervescence.
The vision of a confectioner's son from the French town of Angers, and an inspiration – La Parisienne.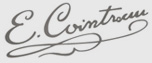 A true icon in the making. One that continues to inspire and is inspired by all of life's events and wonders. One that puts her own twist on the classics like no other. Alluring and charming, her spirit and her unique perspective on the world and times are unforgettable. Just like a cocktail, her life is a kaleidoscope where lifestyle never eclipses style. She has achieved the perfect balance through embracing contradictions, and the energy that comes with movement and creativity. Her every moment brings fresh surprises; she has mastered the art of welcoming others with grace and taking center stage with neither ego nor artifice. She finds inspiration in the people who surround her as well as the outside world. She seeks to explore while remaining true to herself, dances through life and dares to dare… Firm in the belief that true elegance is being oneself in every situation, she creates her own rules and style. Free-spirited, she is a pure Parisienne.
Introducing Cointreau La Parisienne's philosophy: freedom! Because life – just like cocktails – should be shaken, not stirred. The Parisienne knows no bounds, breaking every rule and flying in the face of convention. Liberated and unfettered, she forges her own path.
She is passionate, creative and versatile. Where others falter, she dares to try, to mix, to explore, to share – to go where she is least expected. No idle idol, she eagerly seeks out inspiration from the world around her, rejoicing in the varied influences that bring her own inimitable character to the fore. Naturally sophisticated, she sparkles and dazzles with her beauty, charm and wit.
Perfect in her imperfection, she is always at ease. She lives life to the fullest, safe in the certainty that true elegance is the confidence to be yourself, without pretense, in every situation. Bold and free, she is a pure Parisienne.
CREATIVE
PASSIONATE
NATURALLY SOPHISTICATED
INSTINCTIVELY AVANT-GARDE
AUDACIOUS
A REFLECTION OF COINTREAU
A TRUE ICON