History
I have searched passionately for the quintessential flavor of Cointreau. I wanted to combine crystal-clear purity with the subtlety of tastes made from the perfect blend of sweet and bitter orange peels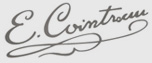 The story begins at the rue Saint-Laud in Angers, France. The year, 1849 and the brothers, Edouard-Jean and Adolphe Cointreau opened the doors to their distillery. Previously in the confectionary and cake-making business, the family saw the need for higher quality naturally flavored liqueurs that were unavailable at the time. From then on, the brothers embraced the new challenge.
Edouard Cointreau, the son of Edouard-Jean, grew up in the warmth of the distillery and reached adulthood with the prospect of becoming a Master Distiller himself. His sole aim was to follow his father's footsteps and enhance the status of liqueur making. His childhood dream came true in 1870 when he joined his father and uncle as head of the family distillery.
Edouard had noticed consumers' interest in the taste of oranges, which at the time was a very rare and precious commodity. He saw this universal flavor, which was appealing to both men and women, and continuously experimented until he created the perfect blend of bitter and sweet orange peels. His passion gave birth to the original Triple-Sec that is known today as Cointreau.
It wasn't long before Edouard's passion was shared with the world. At the World's Fair in Paris in 1889, Cointreau would claim the first of many awards dedicated to the Unconventional French Spirit. Soon, recognition came from all over the globe. 
Not content with just building a unique liqueur, Edouard took great interest into the emerging medium of advertising. Drawing inspiration from a picture of Pierrot and an homage to Edouard's eyeglasses - the character of Pierrot de Cointreau was born and quickly became the Brand's ambassador in its advertising.