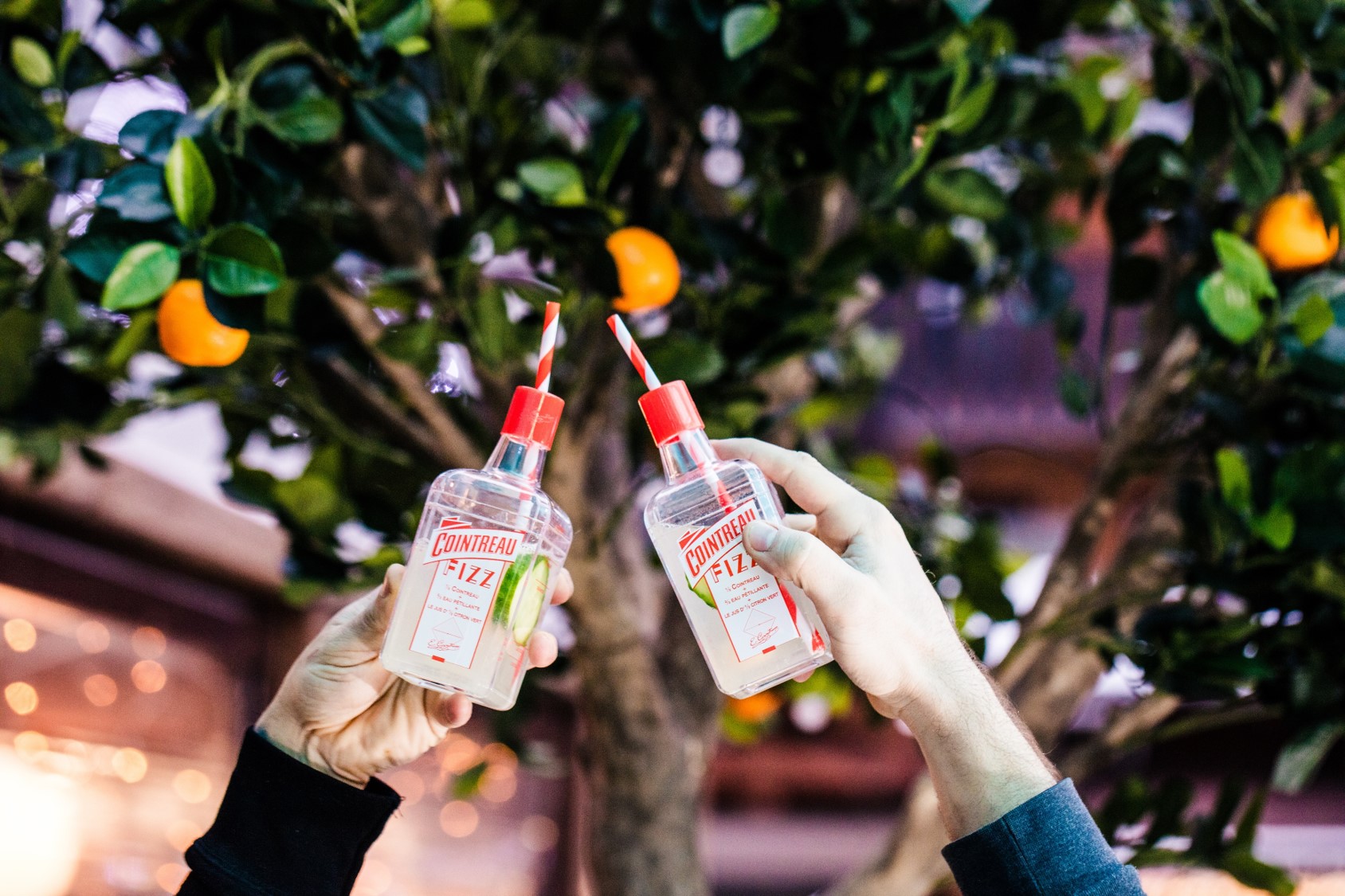 From 3 to 30 September 2018
Only one entry per person
Win your Mini Cointreau Fizz pack!
 
'Cause life is richer when you mix, we think you should enjoy a Fizz party with your friends, family, colleagues and why not neighbours!
Want to win 6 of our lovely Mini Cointreau Fizz bottles to do so?
 
STOP EVERYTHING NOW!
1. Repost the picture or share your own favorite Cointreau cocktail photo
2. Use #minifizz in the post
10 winners will be announced in October!
** Please drink responsibly. One entry per person. Mini Cointreau Fizz bottles do not contain alcohol. **


Terms & Conditions
1. The competition is open to individuals aged 18 years (or, if higher, the legal drinking age in your country) or over, except employees of the Promoter, their families, agents or any third party directly associated with administration of the competition.

2. The competition is free to enter and no purchase is necessary.

3. To enter the competition, you must:
    3.1 Repost the post or share a photo of your cocktail made with Cointreau on Instagram;
    3.2 Use the hashtag "#minifizz" in the post.

4. Your post must:
    4.1 Not include reference, or allude to children, toys, or anything associated with childhood or children;
    4.2 Not include, reference or allude to tobacco, drugs, sex, or violence;
    4.3 Not include pets or animals;
    4.4 Not encourage or allude to excessive drinking or other socially irresponsible activity;
    4.5 Not be offensive, illegal, explicit, disparaging, deceptive or discriminatory, or infringe any third party's rights; and
    4.6 Not include any third party brands.

5. Only one entry per person is permitted.

6. The competition period will be set out in the Instagram post announcing the competition. Where the competition applies to a particular month, the opening date will be the first day of that month, and the closing date will be the last day of that month. Entries must be received between 00:00 on the opening date and 23:59 on the closing date. Entries received after or before this time may not be considered. 

7. The Promoter accepts no responsibility for entries not successfully completed due to a technical fault, technical malfunction, platform unavailability, computer hardware or software failure, satellite, network or server failure of any kind.

8. You agree to comply with Instagram's Terms and Conditions in relation to your entry. You acknowledge that this competition is in no way sponsored, endorsed or administered by, or associated with, Instagram and you acknowledge that Instagram will not have any liability in relation to this competition.

9. 10 winners will be chosen by a judging panel within 15 days after the closing date of each competition.

10. The winners will each receive 6 empty Mini Cointreau Fizz (170ml) bottles with straws. Please note Mini Cointreau Fizz bottles do not contain any Cointreau or other alcohol.

11. The winners will be notified via Instagram (using their Instagram username) once chosen, and will be asked by private message for a postal address to claim their prize. If a winner does not respond to the Promoter within 5 working days the Promoter's request, then the winner's prize will be forfeited.

12. The prize will be sent to the winners by post within 15 days of being notified of their win.

13. The prize for the winners is non-exchangeable, non-transferable and no cash alternative is offered. 

14. The decision of the Promoter regarding any aspect of the competition is final and binding and no correspondence will be entered into about it. 

15. The winners' name and county can be obtained by sending a stamped addressed envelope to the details below within 30 of days after the date of the closing date of each competition.

16. You are deemed to have accepted and agreed to be bound by these terms and conditions upon entry. The Promoter reserves the right to refuse entry, or refuse to award the prize to anyone in breach of these terms and conditions. 

17. The Promoter reserves the right to hold void, cancel, suspend, or amend the competition where it becomes necessary to do so.

18. Insofar as is permitted by law, the Promoter, its agents or distributors will not in any circumstances be responsible or liable to compensate the winners or accept any liability for any loss, damage, personal injury or death occurring as a result of taking up the prize except where it is caused by the negligence of the Promoter, its agents or distributors or that of their employees. Your statutory rights are not affected.

19. Personal data supplied during the course of this competition will only be processed as set out in Cointreau privacy policies  [LINK TO PRIVACY POLICY] and in these terms. By entering the competition you acknowledge that the Promoter will (and authorise and grant a licence the Promoter to):
    19.1 share your post on Instagram, other social networks, feature your post on the Promoter's website, and use it in internal and external communications, in each case as necessary for its legitimate interests in administering and promoting the competition and its brand; and
    19.2 (if you win) tag you in a winner announcement on Instagram, and (to comply with UK marketing rules) provide your name and county on written request as set out in these terms. The Promoter does this as necessary for its legitimate interests in promoting the competition and complying with its obligations under UK marketing rules.

20. The competition will be governed by English law and you submit to the jurisdiction of the English courts.

21. The Promoter of this competition is Remy Cointreau UK Ltd (company number 08129324) of The Pinnacle, 160 Midsummer Boulevard, Milton Keynes, Buckinghamshire, MK9 1FF.