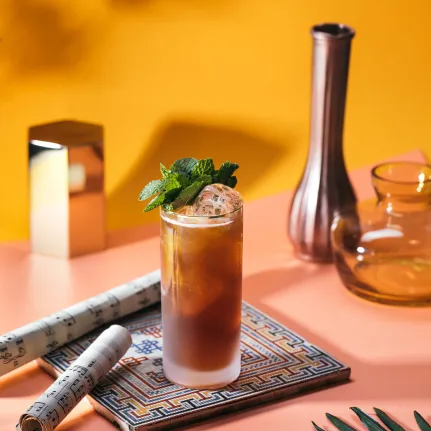 Inspired by the classic, award-winning film Casablanca.
INGREDIENTS FOR BEAUTIFUL FRIENDSHIP
0.75 oz Cointreau
1.5 oz Mount Gay Black Barrel Rum
0.5 oz fresh lime juice
0.25 oz simple syrup
1 bar spoon tamarind concentrate
5 leaves fresh mint
1 pinch cinnamon
2 oz soda
HOW TO MAKE BEAUTIFUL FRIENDSHIP
Step 1

Muddle mint in simple syrup in the bottom of a shaker.

Step 2

Add Cointreau, rum, lime juice, tamarind concentrate, and pinch of cinnamon and fill with ice.

Step 3

Shake and strain over ice into a Collins glass.

Step 1

Top with soda and stir to combine. Garnish with mint sprigs.