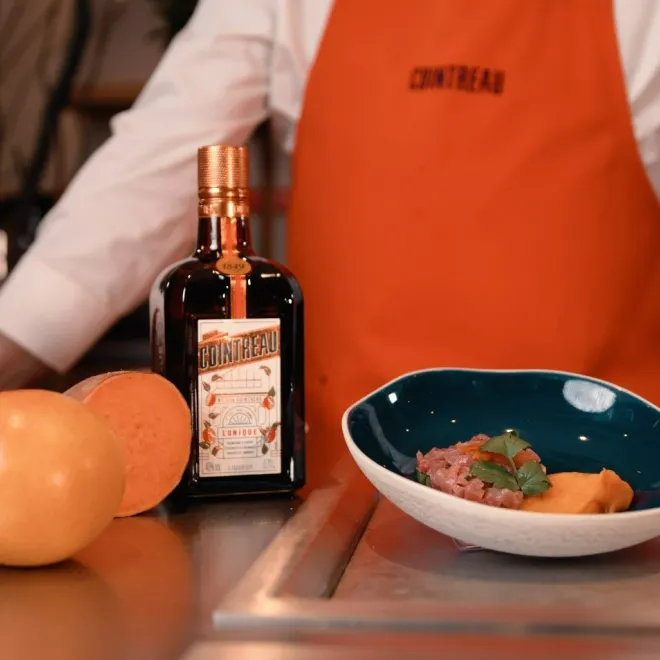 Ingredients (serves 4):
8 cl Cointreau
280 g Tuna
1 Grapefruit
400 g Sweet potatoes
10 g Olive oil
10 g White balsamic condiment
20 g Powdered sugar
50 g Salted butter

Coriander
Method:
Step 1

Peel the sweet potatoes. Cut them into small cubes. In a saucepan, cook them with water and add a pinch of salt. Add the salted butter and cook for about 15 minutes.

Step 2

Next, make the zests of the grapefruit cut very finely, put in a saucepan with cold water to the height, boil, drain, and repeat 3 this operation to remove the bitterness.
Then, put back the grapefruit peels with water to the height and add the powdered sugar. Add 2cl of Cointreau. Leave to cool until all the water has evaporated.

Step 3

To make the vinaigrette, use the juice of 1/2 grapefruit, add the olive oil, the white balsamic condiment and the Cointreau. Add a pinch of salt.
Add the finely chopped coriander.

Step 4

When the sweet potatoes are cooked, mashed potato them and add ¾ of the grapefruit zest.

Step 5

Cut the tuna into a very fine tartar.

Step 6

Season the tartar with the Cointreau vinaigrette and the remaining grapefruit zest.

Step 7

Taste and adjust the seasoning.

Step 8

To serve, place a quenelle of sweet potato purée on a plate and, using a circle, arrange the seasoned tuna tartar and decorate with coriander.