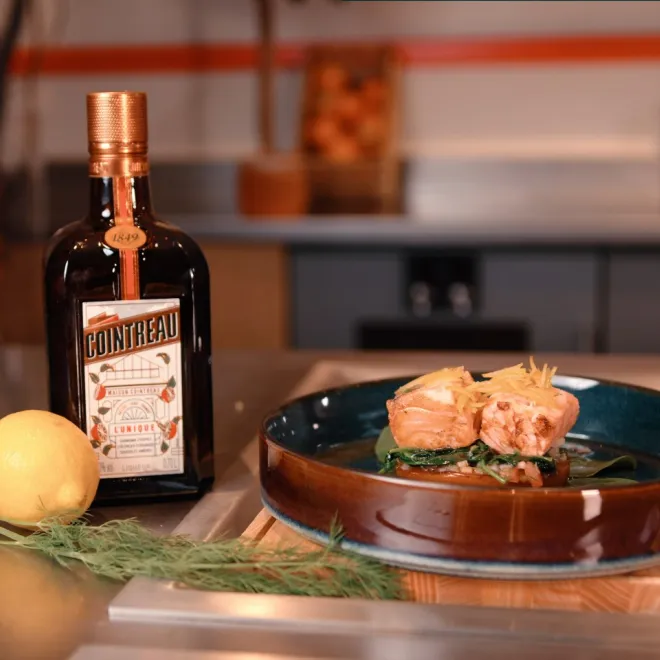 Ingredients (serves 4):
7 cl Cointreau
280 g Salmon steaks
200 g Spinach
80 g Smoked salmon
30 g Olive oil
20 g Butter
20 g Powdered sugar
2 Beef heart tomatoes
1 Sweet onion
2 Lemons

Dill
Method:
Step 1

Cut 4 thick slices of beef heart tomatoes (at least 1cm). Fry them in a pan with a little olive oil. Make a tomato brunoise with the remaining tomatoes.

Step 2

Make the lemon zest. Thinly slice the zests, put them in a saucepan with water to the height, boil them, then drain them and repeat this operation 3 times.

Step 3

To make the sauce, squeeze the juice of 1 lemon and add the finely sliced sweet onion.

Step 4

Slice the smoked salmon in brunoise. Add it to the sauce vierge. Add the diced tomatoes. Add the Cointreau. Add minced dill. Finish the sauce with olive oil. Taste and adjust seasoning.

Step 5

Candy the lemon peels with water and powdered sugar. Let them candied until the water has completely evaporated.

Step 6

In a saucepan, melt the semi salted butter and cook the spinach for a few minutes.

Step 7

In a frying pan, brown the salmon cubes on each side.

Step 8

To serve, place a few leaves of raw spinach on a plate. Arrange the slice of tomato while still warm and drizzle with the smoked salmon and Cointreau sauce. Add a nest of spinach leaves and place the salmon cube on top. Add the candied lemon zest to the salmon and pour the Cointreau sauce over it once again.