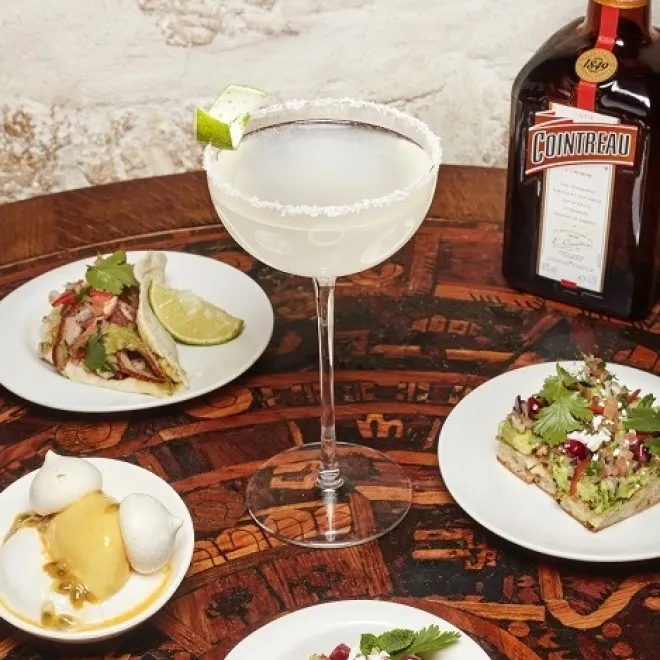 INGREDIENTS
for 2 people

20 min preparation / 1 hour marinade

100g pork shoulder
2 corn tortillas
Marinade for the meat :
50g achiote paste
250ml pineapple juice
25g fresh pineapple
25g red onions
3 garlic cloves
100ml white vinegar
5g cumin
5g white pepper
5g dried oregano
5g coriander seeds
4g salt
Salsa verde :
100g tomatillo
1 avocado
½ bunch coriander
3 garlic cloves
½ red onion
2 green jalapeños
5g cumin
5g pepper
3g salt
Pico de gallo :
3 tomatoes
1 red onion
1 red chili
½ bunch coriander
Garnish :
50g pineapple
6 coriander leaves
¼ lime
INSTRUCTIONS
Step 1

For the marinade, put all the ingredients into a food processor and blend until smooth.

Step 2

Slice the meat into 100g steaks, cover the meat with the marinade and chill for 24 hours.

Step 3

For the salsa, caramelize the chopped onions, garlic and jalapeño peppers in a pan without oil. Toast the spices, and then blend together in a food processor.

Step 4

For the pico de gallo, finely chop all the ingredients.

Step 5

Finely dice the fresh pineapple.

Step 6

Remove the fresh coriander leaves from the stalks.

Step 7

Cook the meat in a pan/the oven/ on a barbecue and cut into thin slices.

Step 8

Warm the tortillas in a pan, then add the meat, followed by the salsa and pico de gallo, and garnish with some diced pineapple and coriander leaves.

Step 9

Cut the lime into 4 and squeeze fresh juice over before serving.