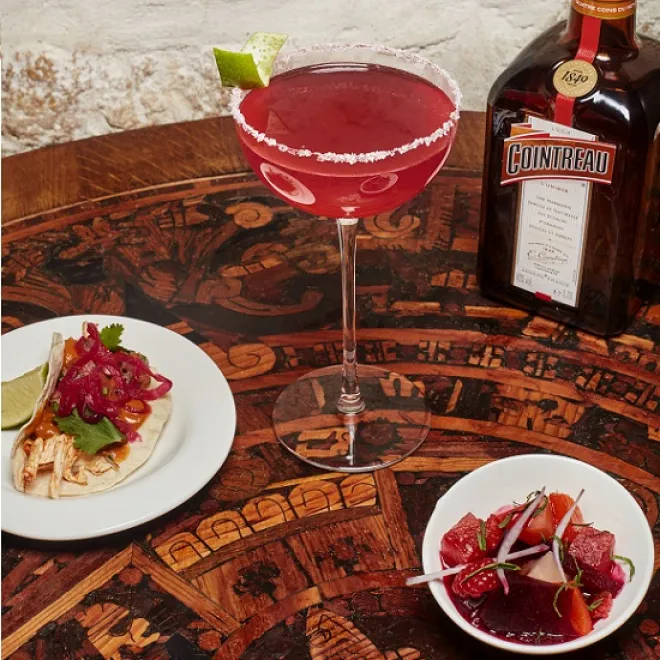 INGREDIENTS
for 2 people

50g watermelon
3 raspberries
1 tomato
1 red beetroot
1 red pepper
5 pomegranate seeds
10g feta
4 mint leaves
10g olive oil
50ml raspberry vinegar
10g honey
INSTRUCTIONS
Step 1

Slice the beetroot and put it in a baking tray with 500ml of water, 3g of salt, 10g of honey and cover with aluminium foil. Bake at 150°C/300°F for 2 hours.

Step 2

Drizzle the red pepper with olive oil and bake in the oven at 180°C/360°F for 40 minutes until the skin turns black. Remove the skin and chop up the pepper.

Step 3

Cut the tomatoes and half of the cooked beetroot into small squares. Halve the raspberries, and dice the watermelon.

Step 4

Put the remaining half of the beetroot into the food processor, add 500ml of water, 50ml of raspberry vinegar, salt, and blend to a puree.

Step 5

In a bowl, mix the vegetables, tomato, watermelon and beetroot together. Season with olive oil, raspberry vinegar, salt and lime juice.

Step 6

Put a spoonful of the beetroot puree onto a plate. Add the vegetable mixture, and garnish with a sprinkling of very finely chopped mint leaves. Finish by adding the feta.