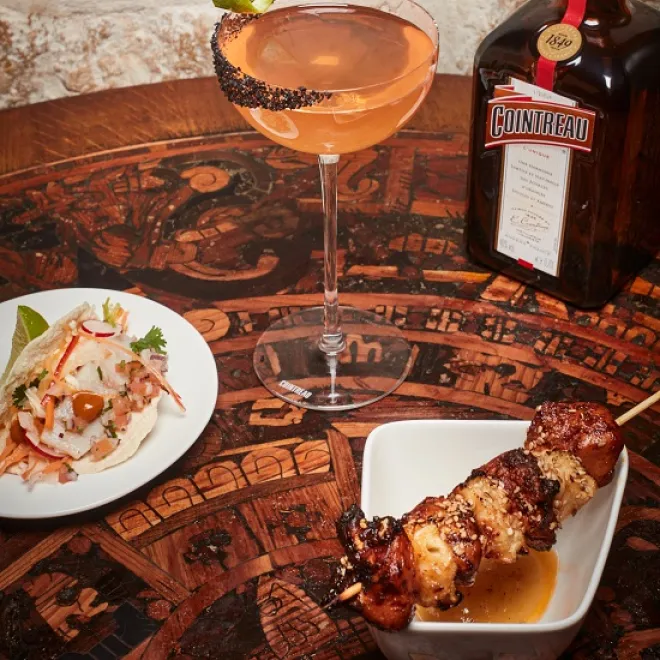 INGREDIENTS
for 2 people

100g boneless chicken thighs
100g pineapple
100g sunflower oil
Marinade for the chicken :
20g chipotle puree
10g agave syrup
5g sunflower oil
10g soy sauce
: Mango habanero sauce
½ mango
500ml pineapple juice
30g agave syrup
10g lime juice
4g salt
INSTRUCTIONS
Step 1

For the marinade, blend together the chipotle puree, 10g agave syrup, 5g sunflower oil and 10g soy sauce.

Step 2

Dice the chicken into large cubes, pour the marinade over the meat and chill for 2 hours.

Step 3

Cut the pineapple into large cubes.

Step 4

After marinading for two hours, cook the chicken in a pan at 70°C/160°F for 30 minutes and then thread the chicken and pineapple cubes alternately onto the skewers.

Step 5

Cut the mango into large cubes, and add to a pan with the pineapple juice and agave syrup and cook slowly until it reduces and caramelises slightly. Then blend until smooth. The sauce is now ready.

Step 6

Cook the skewers at a very high temperature to caramelise them – in the oven or on a barbecue – at approximately 250°C/480°F for 10 minutes.


Step 7

When the skewers have caramelised, sprinkle with sesame seeds and the zest of a lime.